North Myrtle Beach
584 HWY 17 N. North Myrtle Beach, SC 29582
(843) 249-4200
Surfside Beach
8703-L HWY 17 Bypass S. Surfside Beach, SC 29575
(843) 748-9191
Why Choose More Space Place?
More Space Place has been serving the Grand Strand for more than 15 years. We're the local leader in Murphy beds, home offices, custom closets, laundry rooms, pantries, garages, and other space saving and storage solutions custom designed to your specifications. We are a family owned business, and we believe that two heads are better than one, so our team works together with each customer to make sure that every job fulfills the exact, unique needs of your home. Our top quality products are all manufactured to order in the United States, in Clearwater, Florida. Our installation team members are full time employees of our company- we don't use sub-contractors. This allows our designers and installers to be on the same page every step of the way and ensures that we get it right the first time.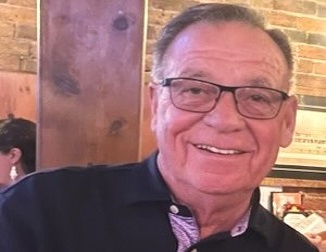 Paul Gamsby
1948-2022
"Once an entrepreneur, always an entrepreneur"
When Paul had a vision, he always found a way to see it to fruition.  That is exactly what happened in 2005, after he was shown a More Space Place brochure by a friend who had just opened a franchise in Hilton Head, SC.  Along with his wife, Patty, he purchased two More Space Place franchises and More Space Place in the Myrtle Beach area was born.  Joined by their son and daughter in law, Sean and Marianne, the family business was formed and continues today, in his honor.
---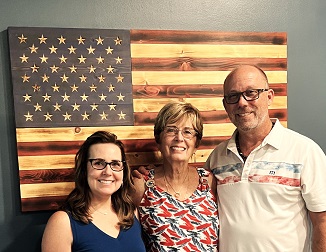 Patty Gamsby, Sean & Marianne Gamsby
Patty Gamsby has "somewhat retired" from the daily operation of the family business they started in 2005.  She now resides in Florida close to her son Brian and his wife Laura and their son Chase.  She enjoys spending time in Florida with them but also travelling all over to see extended family and friends. Sean and Marianne are stepping into new roles in the business that they have been part of since day one.
Sean Gamsby grew up in Binghamton, NY and served in the Navy on the USS The Sullivans from 1995 to 2000. After his time in the Navy he started working in the cabinetry field in Charleston, SC.  In 2003 he moved to Columbia, SC to work at a top engineering & woodworking firm.  He worked on a CNC routing machine where he honed his skills and developed an acute attention to the smallest of details for many multimillion dollar projects.  Sean brings the same skill and attention to More Space Place as the Sales and Installation Manager.
Marianne Gamsby is from Colorado Springs CO and has been working in the woodworking industry for over 25 years.  Starting in college she held an internship where she developed a passion for woodworking and design. After graduating with an Architectural Engineering degree Marianne moved to Columbia, SC in 2003 where she met Sean. Shortly after in 2005 they moved to North Myrtle Beach with Paul and Patty to start More Space Place. For the past 18 years Sean and Marianne have been able to find the right balance of work and family. "I feel lucky to have a job that I am passionate about while being able to work with those I love." says Marianne.
---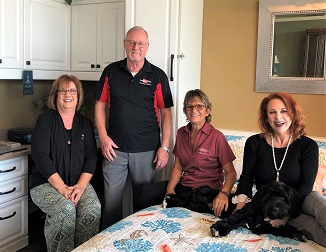 North Myrtle Beach Showroom Staff
At our North Myrtle Beach showroom, we have Kathy, Mark, and Teresa, who work with Marianne Gamsby, doing CAD designs, and presentations. We also have John, who does measurements for both showroom locations. Gayle is the office assistant and showroom consultant for the North Myrtle Beach location, and Sully is our showroom mascot.
---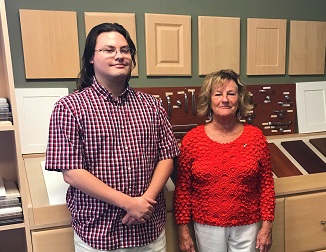 Surfside Beach Showroom Staff
At More Space Place, we are lucky to have employees who truly work together as a team. When you call or come into either of our locations, any one there will be happy to help you. At our Surfside Beach showroom, we have Harriet, Lori, and Derek, who work together doing  custom CAD designs and presentations.
---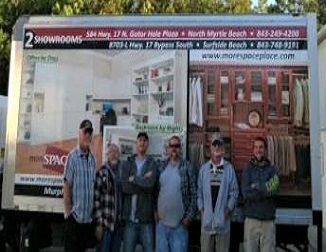 Installation Team
One of the biggest advantages to working with More Space Place is that we have our own installation team-we don't sub-contract any of our work out. That means that our installers are trained specifically for the installation of our unique products. It also means that we aren't working on anyone else's timeline-when we say our installers will be there on a certain day and at a certain time, that is what you can count on. Our installers work professionally, quickly, and neatly, and make sure the job is installed exactly as you envisioned your space would look. Just like the rest of the More Space Place company, our installers work as a team.
---